Food and Hospitality
As craft-brew lovers toast GABF, a new beer lab honors the festival's founder
MSU Denver unveils the Charlie Papazian Brewing Education Lab and plans for a new on-campus brewpub.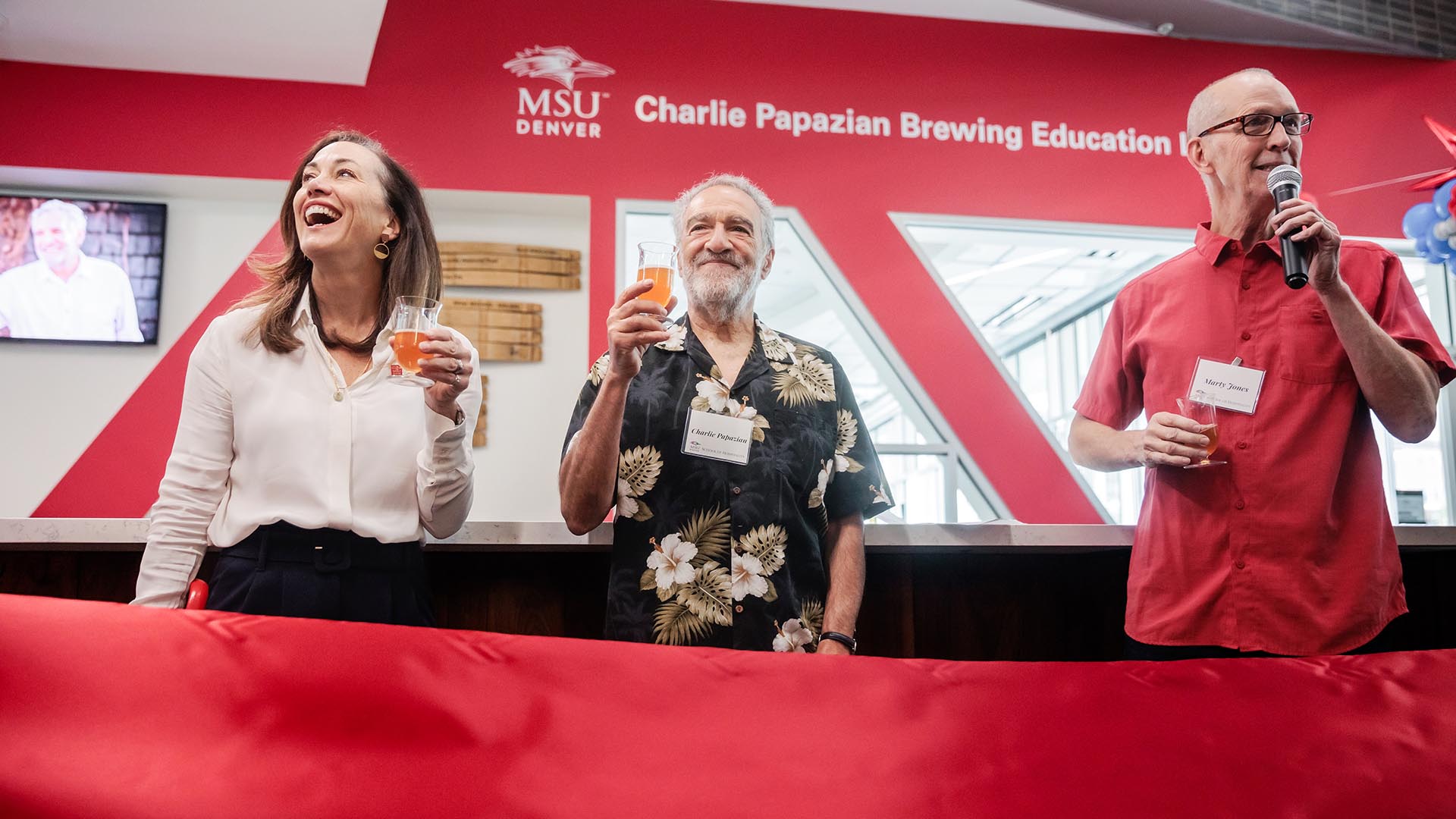 As thousands of craft-beer enthusiasts descended on the Mile High City for this year's Great American Beer Festival, Metropolitan State University of Denver raised a glass to a new brewing laboratory in which students will get real-world experience that could one day help them create medal-worthy brews.
The Charlie Papazian Brewing Education Lab, named in honor of the craft-beer pioneer who founded the GABF, will provide students in MSU Denver's Brewery Operations Program with an opportunity to brew on a commercial-scale system. It may also open the door to a new campus brewpub that will sell student-made beer.
Students will learn "what the production process is all about and all of the management and operational things involved in the brewing industry," Papazian said as educators, brewers and other beer-industry supporters gathered to celebrate the lab's opening on Sept. 20. "This will make them better decision-makers as brewers, managers, entrepreneurs or whatever career they want to pursue in the industry," he said.
MSU Denver's beer program already boasts a number of other industry partnerships and hands-on learning facilities, including smaller brewing systems. But students advocated for a facility that would allow them to brew on a commercial scale, said Annie Butler, interim dean of the University's School of Hospitality.
"Our Brewery Operations students said it was the one missing piece to the program," Butler said. "This brings the real world into the classroom."
---
RELATED: New beer lab honors Colorado craft-beer pioneer
---
The 1,500-square-foot facility features the kind of 3½-barrel commercial brewing system used in many small to medium-size breweries. The lab should better prepare students for jobs in the industry, said Bernardo Alatorre, director of MSU Denver's Brewery Operations Program, part of the School of Hospitality.
It will further strengthen the student experience, he said, by allowing students to gain hands-on experience in all facets of brewing, from procuring ingredients and creating recipes to yeast management, fermentation control and clean-in-place procedures.
"It's a much more professional setup, a much more technical setup," said Christopher Eastment, a senior majoring in Event and Meeting Management and minoring in Brewery Operations.
In addition to giving students skills that employers value, the new lab will "ethereally" connect them to a man whom many credit for starting the $28 billion craft-beer industry, Eastment added.
"He created a career for me to fall into," he said.
---
RELATED: Brewing up equity for the beer industry
---
Papazian is a retired founder of the American Homebrewers Association and the Brewers Association, both based in Boulder. He began homebrewing in the 1970s — a time, he said, when the U.S. commercial beer industry "was in the dark ages."
"If you wanted interesting beer, you had to make it yourself," Papazian said.
Today, there are 440 craft breweries in Colorado alone. The industry employs more than 16,000 Coloradans and provides a $2.4 billion economic impact to the state's economy, according to the Brewers Association.
MSU Denver students will be contributing to that impact, selling the products they create in the Charlie Papazian Lab. In addition to the brewing equipment, the facility includes a 10-tap bar and is adjacent to the Degree Metropolitan Food + Drink restaurant. Once MSU Denver's School of Hospitality secures the necessary licensing, it plans to partner with Degree to create a new on-campus brewpub.
The partnership will provide important learning opportunities for students who will design, brew and serve their creations to paying customers, said Leigh Nelson, a senior who's double majoring in Brewery Operations and Marketing.
Nelson is also the lead brewer at Denver's popular Station 26 Brewing Co., where she designs new recipes and tweaks some of the brewery's core offerings.
"Brewers often pat each other on the back for their work, but we're looking for realistic feedback from people who we don't know," said Nelson. "Now, we'll get that feedback as part of our education."
Degree and the adjacent SpringHill Suites by Marriott Downtown hotel are operated by Sage Hospitality as part of a unique public-private partnership, in which students in MSU Denver's School of Hospitality can get hands-on industry experience, in addition to the credentials they're earning in Hospitality Learning Center classrooms and labs.
Support the Charlie Papazian Brewery Education Lab Fund
Funds will go toward construction costs, the purchase and maintenance of equipment and to support the Brewery Operations Program. Contribute here.
Papazian was instrumental in galvanizing financial support for the new lab, including contributions from prominent Colorado brewers, restaurateurs and industry boosters.
"As soon as I had the tour (of the University) and learned what this institution does for people, I was so honored to say, 'Yes, let's do it,'" Papazian said. "It fits with my life philosophy of embracing all that's around you."
Molson Coors Beverage Co. and Peter J. Coors; restaurateurs Frank and Gina Day; Odell Brewing founders Doug and Wynne Odell; the Carter Community Memorial Trust; John I. Haas Inc.; Maine Beer Co.; Fritz L. Maytag III; Saint Arnold Brewing Co.; and On Tap Credit Union have lent their support to the project, helping to raise nearly $500,000 toward the $2 million lab.