Food and Hospitality
Recipe: pozole rojo
Celebrate Día de los Muertos with this traditional Mexican dish.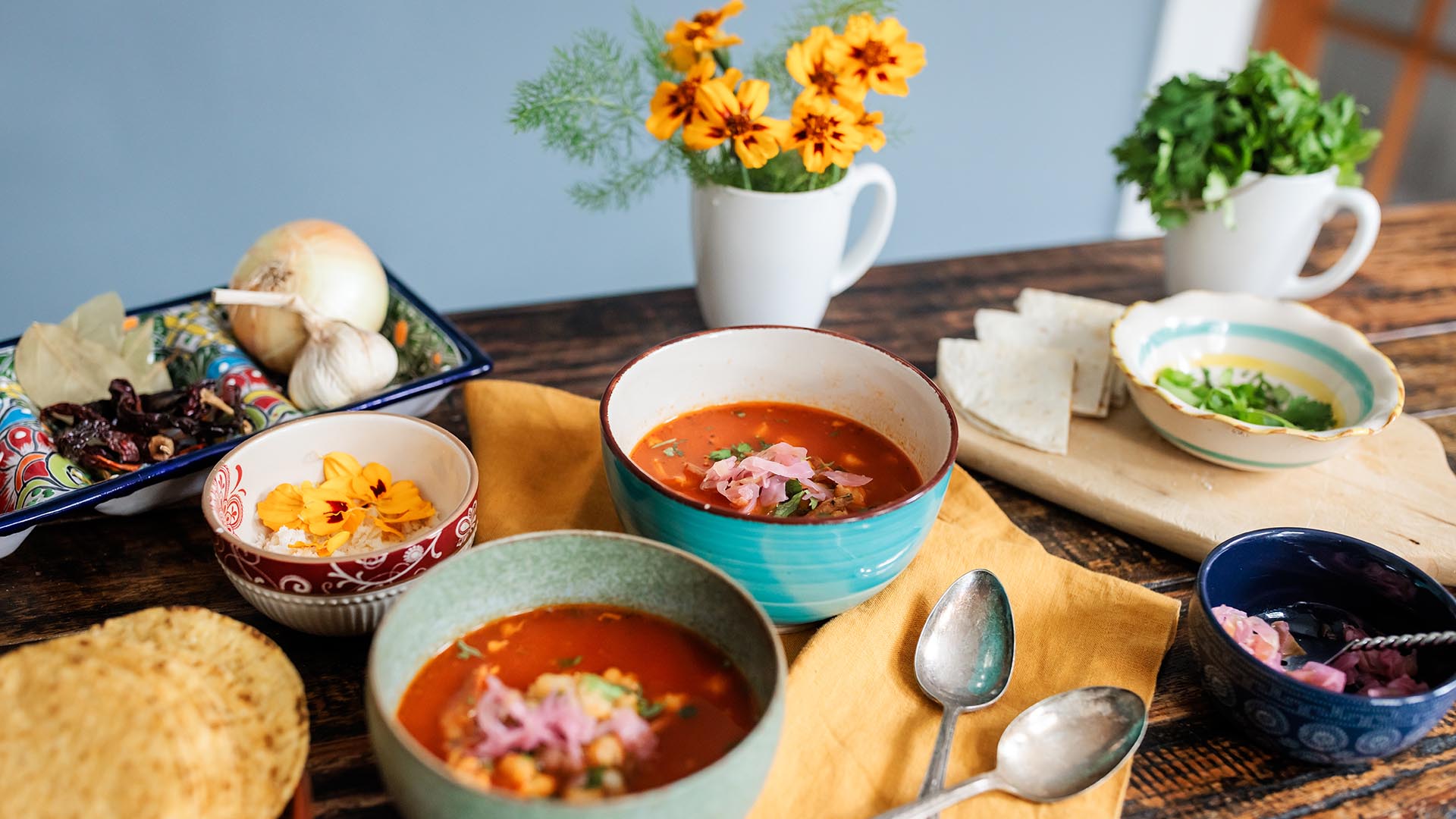 Bright marigold flowers, candles, pierced paper, food offerings and photos of loved ones who have passed on adorn altars around Mexico and other Latin American countries during Día de los Muertos, a celebration welcoming the spirits of the dead on their annual visit to their terrestrial homes.
Día de los Muertos, or Day of the Dead, is typically celebrated Nov. 1-2 and dates back thousands of years. In indigenous Mexican cultures, death is considered an extension of life, and even though traditions differ across the country, at its core it's an opportunity for families to gather and remember those whose physical lives have ended but who are still part of the community.
Families decorate offrendas (altars commemorating deceased loved ones) with gifts that may include a glass of water, incense and salt to purify the space, and food to delight the souls of their ancestors. Traditional dishes such as moles and pozole are popular during the celebration, depending on the region and the favorite foods of those being remembered.
---
RELATED: Preserve your fall harvest with these tips and tricks
---
Pozole comes from the Náhuatl word "pozzoli," which means "frothy" and refers to the flower-like shape of the hominy as it cooks. This dish also has a significant connection with the end of the corn-growing cycle. Aztec Emperor Monctezuma II gave pozole as an offering to the god of fertility for blessing corn.
Pozole rojo
Traditional pozole recipes start by simmering meat in water with onion, garlic and bay leaves.
Ingredients
4 cups of water
4 cups stock (chicken or vegetarian)
2 pounds of pork shoulder, cut in chunks
1 pound pork ribs
4 bay leaves
1 tsp of salt
1 onion
5 garlic cloves
Instructions: Bring 8 cups of water and stock to a boil with 1 tsp salt. Add pork shoulder and ribs, plus ½ of the onion, 5 garlic cloves and the 4 bay leaves. Cook for 1 hour. Using an Instant Pot or a pressure cooker cuts the time by half (25-30 minutes). While the pork cooks, make adobo to flavor the pozole.
Adobo ingredients
8 Guajillo chiles, cleaned, seeds removed
½ onion, cut into large chunks
4 garlic cloves
1 tbsp oil
2 cup water (or stock)
2 teaspoons Mexican oregano
½ cup hominy (from two cans) for thickening
2 small cans of hominy, rinsed and drained
Where to celebrate in Denver

Día de Muertos Parade: Saturday, Oct. 28, 11 a.m. to 12:30 p.m. on West 7th Ave. and Santa Fe Drive, with creative floats, marching bands, ballet folkloricos, fire trucks, catrinas, coco characters, lowriders and colorful costumes.

Día de Muertos Festival: Oct. 28, noon to 8 p.m. at Civic Center, with food vendors, live music, exhibitors, a catrina contest, fair games, altar exhibitions and music from around the world.

Muertos en Westwood: A three-day celebration beginning Friday, Nov. 3, with "Mikailwitl," a celebration honoring ancestral traditions before colonization, followed by Saturday's "Muertos en el Barrio," celebrating the Chicano and Mexican-American community's reclamation of Día de los Muertos, and ending Sunday, Nov. 5, with "Festival de las Catrinas," highlighting today's iconic muertos representation.
Instructions: In a saute pan, heat 1 tbsp of oil, add the onion, garlic cloves and chiles and saute for 3-5 minutes or until they look shiny and soft. Then add 2 cups of water or stock and bring to a boil. Turn off heat and add 2 teaspoons of dried oregano. Let it cool slightly, then blend with ½ cup of hominy until smooth. Strain.
Once the meat is tender but not yet falling apart, add the rest of the hominy and the adobo sauce to the pozole broth and bring to a boil. Then simmer for another 30-45 minutes or until the pork is fork tender and the flavors have come together. Serve with shredded cabbage, cilantro, avocado, radishes, tostadas, marigold quesadillas and salsa pozolera for extra heat.
---
RELATED VIDEO: Recipe: ají amarillo chicken with diosa verde
---
Salsa pozolera ingredients
2 tbsp oil
2 tomatoes
10 chiles de árbol
1 garlic clove
¼ of white onion
¼ to ½ cup of water
Salt to taste
Instructions: Heat the oil and saute the tomatoes for 2-3 minutes. Add the chiles and saute for another 3-4 minutes. Add the onion and garlic. Turn off the heat. Blend, adding ¼ to ½ cup of water to desired consistency. Season with salt to taste.
Paula Thomas is a lecturer at Metropolitan State University of Denver's School of Hospitality. She's an experienced food professional and educator with an emphasis on environmental, social and financial-sustainability leadership. She holds a master's in Gastronomy in world food cultures and mobility, completed the MAD Academy Environment & Sustainability program in Copenhagen, Denmark, and participated in the 2022 James Beard Foundation Legacy Network Advisor cohort.