Food and Hospitality
The ultimate healthy Thanksgiving dinner menu
Our nutrition expert, Prabhdeep Sandha, cooks up some tempting suggestions for a nourishing meal.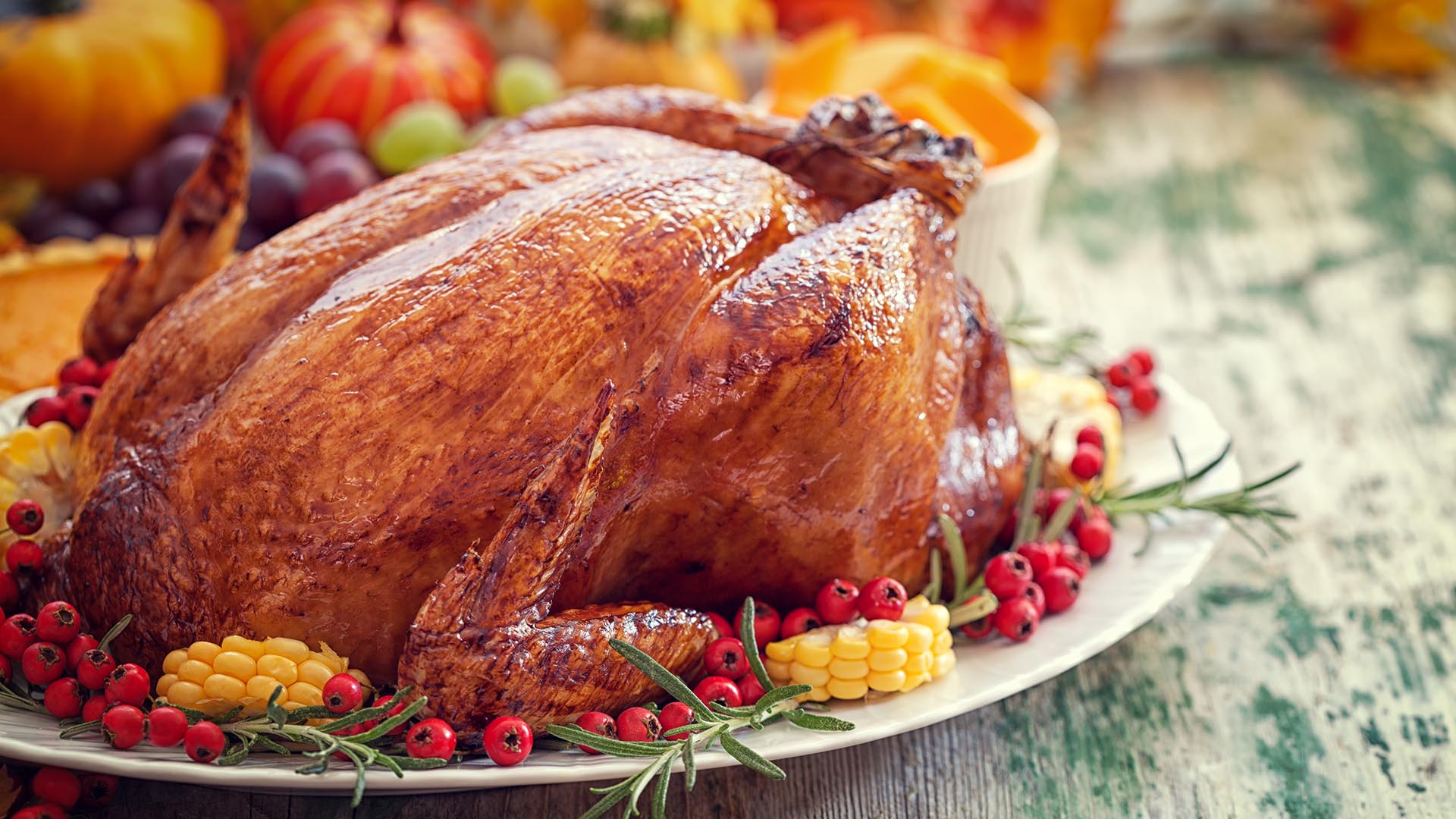 Thanksgiving dinner is arguably the biggest meal of the year, averaging a belt-loosening 3,000 calories.
Not only that, but it is served on a special day that — with extended dining times, cold weather outside and endless distractions on TV — is pretty much custom-made for lazing and grazing.
But according to Prabhdeep Sandha, Ph.D., a registered dietitian and assistant professor in the Department of Nutrition at Metropolitan State University of Denver, it is possible to enjoy this annual treat without needing to be rolled onto the couch afterward.
For this year's celebration, Sandha has prepared a delicious alternative Thanksgiving menu that significantly lowers the calorie count without compromising your taste buds.
Tasty herbs
So how does Sandha do it? "Basically, my selected recipes are really flavorful and prominently feature herbs, which are known to act as an appetite suppressant," said Sandha, who is also program director of the Nutrition Graduate Program. "That means my meals more easily satisfy hunger cues and help curb food cravings, so you'll end up eating smaller portions."
An added bonus: Because you are relying on herbs and spices for flavors, you will use less sodium and other unhealthy nutrients such as sugar and saturated fats. Plus, the antioxidants and other therapeutic benefits of these food additives act as the cherry on top!
Sandha has always loved upending diners' expectations by mixing up ingredients and approaching food preparation in imaginative ways. But with this particular meal, the cook's not-so-secret agenda is to convince "traditional" eaters that healthy options can be just as delicious.
---
RELATED RECIPE: Pozole rojo
---
Family gatherings
"I'm sure that some, if not all, of these dishes might convert more traditional eaters," Sandha said, "simply because their tasty concentration of herbs and flavors will be enough to enhance any Thanksgiving table."
For many Americans, Sandha understands, food is family, and traditional gatherings such as Thanksgiving hold special importance because of what they represent. "When families gather to play games, celebrate family traditions and make memories — and especially, to cook and eat together — that strengthens their mutual bond," she said.
"Thanksgiving both fosters individual relationships and helps families develop as a whole unit," she added. "And enjoying good food together is at the core of that whole experience."
Your healthy Thanksgiving recipes!
Appetizer: herb-laden caprese skewer (no-cook recipe)
Prep Time: 10 mins
Total Time: 10 mins
Additional Time: 15 minutes
Servings: 10
Ingredients:
10-12 grape tomatoes
10 ounces mozzarella cheese, cubed into bite-size pieces
2 tablespoons extra virgin olive oil
2 tablespoons fresh basil leaves, chopped
1 pinch Himalayan salt
1 pinch ground black pepper
10-12 toothpicks
Directions:
Toss mozzarella cheese, tomatoes, olive oil, basil, Himalayan salt and pepper together in a bowl until well-coated. Let it sit for 15 minutes.
Skewer one tomato and one piece of mozzarella cheese on each toothpick.
Enjoy!
---
Drink: Spicy autumn punch
Prep Time: 20 mins
Cook Time: 40 mins
Additional Time: 30 minutes
Total Time: 1 hr
Servings: 10
Ingredients:
2 large oranges
3 cups apple juice
2 tablespoons lemon juice
1½ cups pineapple juice
5 whole cloves
½ cinnamon stick
Pinch of ground nutmeg
1/8 cup honey (or according to your taste)
Directions:
Preheat the oven to 350 degrees. Stud whole oranges with cloves. Bake in the preheated oven for 30 minutes.
In a large saucepan, combine apple juice and cinnamon stick. Bring to a boil, reduce heat to medium and simmer 10 minutes. Remove from heat and stir in lemon juice, pineapple juice, nutmeg and honey.
Use punch bowl for serving.
Cut thin orange rings. Let the drink sit for 30 minutes with clove-studded baked oranges floating on top.
---
Entrée: Herbed turkey
Prep Time: 10 mins
Cook Time: 3 hrs
Additional Time: 30 mins
Total Time: 3 hrs 40 mins
Servings: 10
Ingredients
1 (15 pound) whole turkey, neck and giblets removed
¾ cup olive oil
2 tablespoons garlic powder
2 teaspoons dried basil
1 teaspoon ground sage
1 teaspoon salt
½ teaspoon black pepper
Directions:
Preheat the oven to 325 degrees. Clean turkey and pat dry with paper towels. Place in a roasting pan with a lid.
Combine olive oil, garlic powder, basil, sage, salt and pepper in a small bowl. Use a basting brush to apply the herb mixture all over the outside of the uncooked turkey.
Pour 2 cups water into the bottom of the roasting pan. Let the turkey cook thoroughly for 3 hours.
The internal temperature of the thickest part of the thigh should measure 180 degrees.
Remove turkey from the oven and let it stand for at least 30 minutes before carving.
---
Side dish 1: Sweet and beety
Prep Time: 15 mins
Cook Time: 1 hr
Total Time: 1 hr 15 mins
Servings: 10
Ingredients:
6 medium beets, peeled and cut into bite-size cubes
2½ tablespoons olive oil
1 teaspoon garlic powder
1 teaspoon salt
1 teaspoon ground black pepper
1 teaspoon dried oregano
1 teaspoon sugar
3 medium sweet potatoes, cut into bite-size cubes
Directions:
Preheat the oven to 370 F.
Take a resealable bag. Mix olive oil, garlic powder, salt, pepper, oregano and sugar. Place sweet potatoes and beets in the bag. Seal the bag and shake to coat vegetables with the oil mixture.
Bake the coated vegetables for a total of 45 minutes, stirring every 15-20 minutes, until all vegetables are tender.
---
Side dish 2: Garlicy mashed cauliflower

Prep Time: 20 mins
Cook Time: 10 mins
Total Time: 35 mins
Servings: 10
Ingredients:
1½ heads cauliflower, cut into florets
2 tablespoon olive oil
2 clove garlic, smashed
½ cup grated Parmesan cheese
1½ tablespoons cream cheese
1 teaspoon kosher salt
¼ teaspoon freshly ground black pepper
2 tablespoon fine cut fresh chives
1 teaspoon parsley
Directions:
In a deep-bottomed pan, place a steamer insert and fill with water just below the bottom of the steamer. Bring water to a boil.
Add cauliflower, cover and steam until tender, about 10 minutes.
Meanwhile, heat olive oil in a small skillet over medium heat. Cook smashed garlic until softened. This will take about 5 minutes. Remove from heat.
Transfer the cauliflower to a food processor; cover and blend on high. Blend in cooked garlic, parmesan cheese, cream cheese, salt, black pepper and parsley.
Serve with finely chopped fresh chives on top.
---
Side dish 3: Jalapeño cranberry sauce (no-cook recipe)
Prep Time: 15 mins
Total Time: 15 mins
Servings: 10
Ingredients:

16 ounce pack of fresh cranberries
8 medium fresh jalapeño peppers, seeded and minced
1 bunch fresh cilantro, roughly chopped
2 cups sugar
2 medium limes, juiced
1½ teaspoons salt
¾ teaspoon ground black pepper
Directions:
Combine cranberries, jalapeños and cilantro in the bowl of a food processor. Pulse until blended.
Transfer to a large bowl. Stir in sugar, lime juice, salt and pepper.
---
Side dish 4: Three bean salad (no-cook recipe)
Prep Time: 15 mins
Total Time: 15 mins
Servings: 10
Ingredients:

16 ounces chickpeas (drained and rinsed)
16 ounces kidney beans (drained and rinsed)
16 ounces black-eyed peas (drained and rinsed)
½ cup chopped red onion
½ cup chopped large English cucumber
1/8 cup chopped fresh chives
½ cup fresh parsley
¼ cup fresh cilantro
¼ cup olive oil
¼ cup red wine vinegar
½ teaspoon dried oregano
½ teaspoon salt
¼ teaspoon pepper
Directions:
Thinly slice the red onion, dice cucumber, chop chives and add to a large bowl.
Finely chop parsley and cilantro and add to the bowl.
Add the chickpeas, kidney beans and black-eyed peas to the bowl.
In a small bowl, combine the olive oil, red wine vinegar, oregano, salt and pepper, and whisk together.
Pour the dressing over the beans and mix well until evenly distributed. Enjoy!