Health
Food for Thought expands its reach to help feed college students
The benefits go both ways in a longstanding partnership between MSU Denver and a local nonprofit that aims to end student hunger.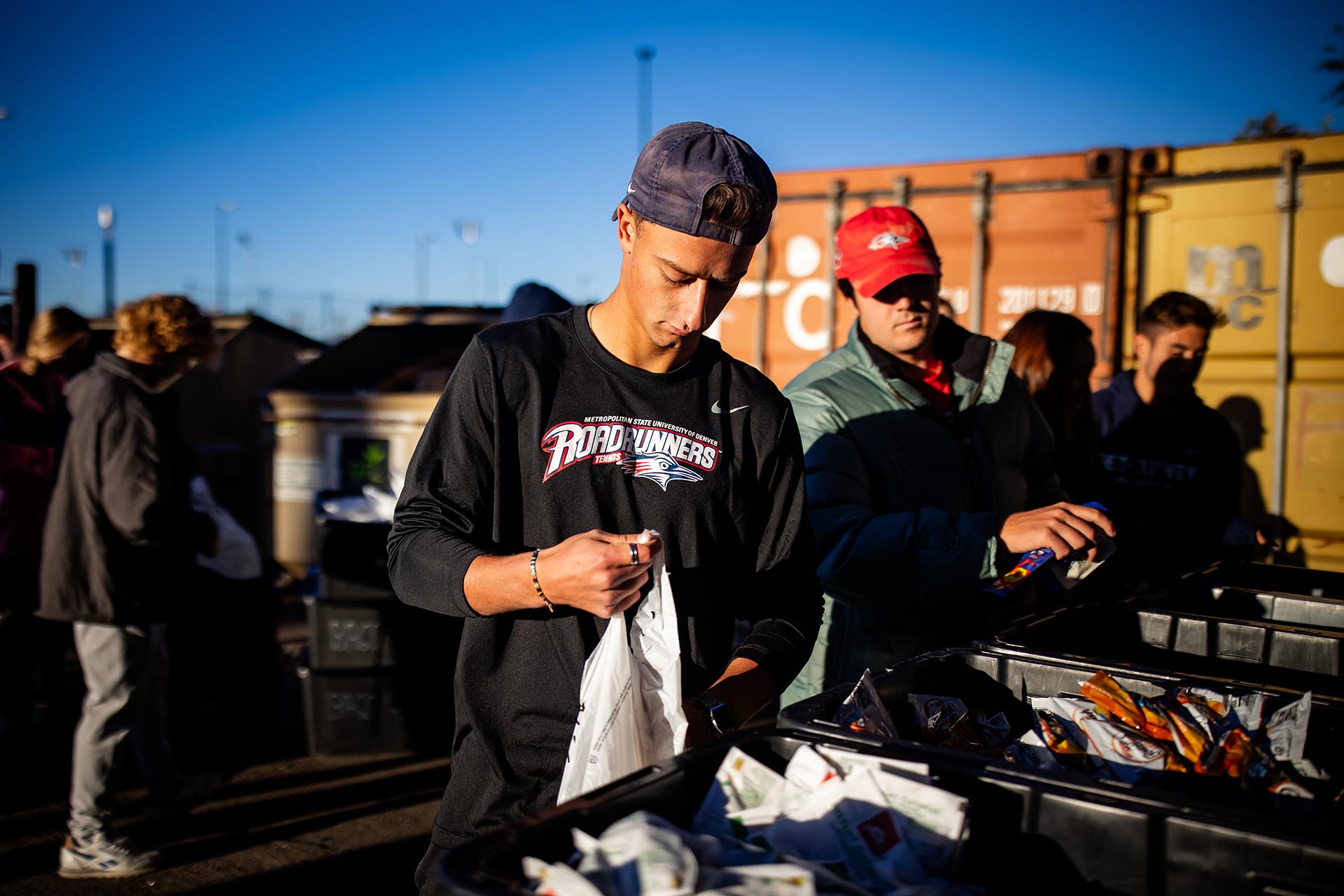 For more than a decade, Denver nonprofit Food for Thought has partnered with Metropolitan State University of Denver to feed thousands of area K-12 students who don't get enough to eat at home.
Now, the organization is helping to feed a growing number of food-insecure college students by picking up the bill for the food inventory at Rowdy's Corner, MSU Denver's on-campus food pantry.
"This student population (at MSU Denver) generally doesn't come from wealth," said Food for Thought founder Bob Bell. "But they have the ability to perform at the University. We began feeding some of the athletes with staples to keep them healthy, and then we thought, 'What about the rest of the student body?'"
---
RELATED: With inflation soaring, more college students struggle with food insecurity
---
Since Bell founded Food for Thought in 2012, MSU Denver has provided space for the nonprofit, which currently operates near the University's Assembly Athletic Complex. That's where volunteers gather every Friday to pack take-home "PowerSacks" of food for students in over 75 local schools. The organization relies completely on volunteers, including many from MSU Denver, to feed 30,000 school-age children.
Food for Thought now also pays the approximately $60,000 annual bill to stock Rowdy's Corner with shelf-stable foods from Food Bank of the Rockies. Rowdy's Corner depends on donations to ensure that the food is available to students.
"Many college students are struggling with the cost of living in Denver, including the high cost of groceries and other stressors outside of school," said Richard Miccio, the University administrator who oversees the food pantry operations. "Food for Thought has really stepped up to address a need on college campuses that many people don't even know exists."
MSU Denver opened its food bank in 2007, after a student-government leader noticed an increasing number of students on campus facing poverty and hunger. It was a unique idea and one of the first of its kind in the nation. Last year, amid growing demand, the food bank moved into a significantly larger space under a new name, Rowdy's Corner.
According to the National #RealCollege Survey Report, published in 2022 by the Hope Center for College, Community and Justice at Temple University, 35% of MSU Denver students had experienced food insecurity in the previous 30 days. That translates to a minimum of 6,000 students needing a reliable, free source of food.
---
RELATED: MSU Denver is reinventing its food pantry amid growing demand
---
Bell says partnering with Rowdy's Corner was a natural progression of the existing relationship between MSU Denver and his organization.
"When we started Food for Thought, we didn't have much support or many volunteers," he said. "MSU Denver students were always willing to step in and help, from Hospitality majors to the athletes. Of course, we wanted to help this population too."
MSU Denver student-athletes are regularly among the dozens of volunteers who assemble bags of food at daybreak on Fridays. Nearly 55,000 children from low-income families depend on free and reduced-cost meals at school. Those meals get them through the week, but some of them don't see a real meal again until they return to school on Monday. With the PowerSacks that students take home for the weekend, Food for Thought aims to bridge the gap.
"Each week is different as far as how many student-athletes or teams volunteer due to schedules and roster sizes," said Allison Salter, assistant athletic director for Sports Performance at MSU Denver. "Our women's tennis team has been there for the last several weeks, for instance."
During the packing sessions, which generally last until about 9 a.m., the volunteers first set up the lines of nonperishable goods that they will add to the bags. "They have different lines set up based on the number of schools that line will supply," explained Salter. "A volunteer walks through the line and grabs the allotted quantity of each item and places it in the bag."
Support Rowdy's Corner on Roadrunner Tuesday

On Nov. 28, you can change the lives of MSU Denver students facing food insecurity by making your gift to Rowdy's Corner. No student should worry about where they will find their next meal. With your support, we can provide food assistance to those who need it most.
Volunteers then move the full bags into plastic bins and, when the bins are full, move them to a shipping container for distribution to the partner schools. "When we take food to the schools, we feed every student so that we don't stigmatize the (free and reduced-cost meals) kids," Bell said. "Each bag contains 12 to 15 nonperishables and a recipe card, all meant to sustain a kid for the weekend."
All of the nonperishable items come by way of the Food Bank of the Rockies, helping Food for Thought stay within its $5-per-bag budget.
With shared values and overlap, the longstanding relationship between MSU Denver and Food for Thought means some of the current MSU Denver students benefiting from the Rowdy's Corner partnership also benefited while growing up in Denver-area public schools. Without question, it's a relationship meant to last, Bell said.
"MSU Denver has always been there for us," he said. "And we're thrilled to be able to help their students."