Sports
Championship aspirations
Meet the team leader who helped the Nuggets bring home an NBA title — without ever playing in a game.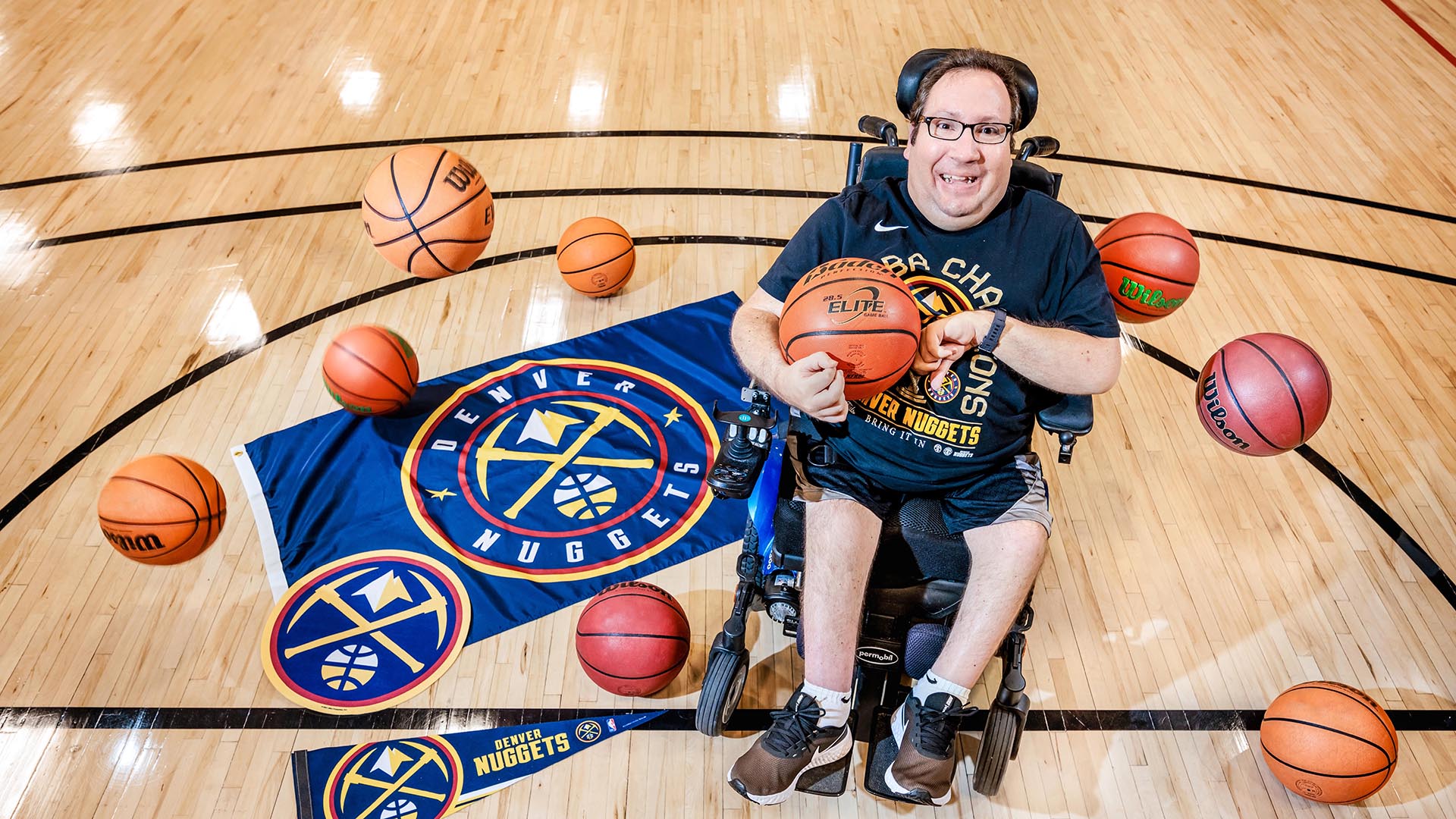 This story appears in the fall 2023 issue of RED Magazine.
Nicholas Owens knew this Denver Nuggets season was going to be unlike any other. Before the first game even tipped off, the team's inspirational locker room attendant made a bold prediction. He told team President Josh Kroenke: "We're winning the championship, and we're getting rings this year."
Owens was right.
"This year has definitely surpassed any experience I've ever had," he said. "Winning the NBA championship was my dream."
For Owens, a 2010 graduate of Metropolitan State University of Denver, the road to that dream has been anything but predictable. Diagnosed with spina bifida at birth and later using a wheelchair, he knew his path was going to be more difficult than those of others. But he certainly never imagined it would lead him to being one of the most important members of the Nuggets organization.
---
RELATED PHOTOS: Nuggets fans celebrate opening game on the Tivoli Quad
---
Forging a path
At age 5, Owens was named an ambassador for Children's Hospital Colorado. In the role, he was tasked with sharing his story, and through that work he met his first Denver Nugget: franchise icon Dikembe Mutombo, who starred for the Nuggets from 1991 to 1996. Owens' love for the Nuggets grew from there, and he aspired to a career in sports broadcasting. But a surgery complication involving his vocal cords and breathing threw a wrench in those plans. Nevertheless, he continued to dream of working for the Nuggets.
At 13, Owens' dream became reality when he was offered a job with the team. His first role was delivering statistics sheets. He was then promoted to delivering tickets to the box office. His standing in the organization only grew over time. One year after he graduated from MSU Denver with a degree in Speech Communications, Owens was hired as a community ambassador for the team, representing the Nuggets at a variety of events across Colorado. But most important, Owens has been a consistent presence in the locker room at Ball Arena for 24 seasons, giving insight to players and coaches and offering words of encouragement to motivate the team.
"I couldn't be more blessed," Owens said. "It's beyond my wildest dreams to be part of such a special organization, and their dedication to me drives me to be greatly dedicated to them. It's an honor to represent the organization."
This fall, Owens' dedication will be rewarded when he receives his NBA championship ring.
'A family affair'
Most people would be starstruck running into Nuggets players, including Nikola Jokic, the two-time NBA Most Valuable Player and NBA Finals MVP. But to Owens, the players are just family members "who are regular guys."
"This whole season, the Joker (Jokic) would come up to me and always go, 'Nick, my brother,' and I would say, 'Joker, my brother!'" Owens said. "We would always check in with each other and see how we were doing, and I would give him and other guys pep talks before the game to ask if they were ready to play."
Once, Owens and his dad left a game early because they had an appointment the next morning. Nuggets head coach Michael Malone made sure to text and check on the family after noticing that Owens wasn't around after the game to fist bump the team.
"It means so much to have these guys in my life, (to) just make sure that I'm doing OK. … I always say that these guys are my extended family," Owens said. "I mean, they're all like a bunch of brothers to me, and just being in the locker room, it's amazing. It means everything. It's pretty much a family affair."
---
RELATED: Is Denver a good fit for WNBA expansion?
---
Opening doors
Something few people know about Owens is that he was the inspiration behind the nonprofit organization Game Day Memories, which provides professional-sports tickets to special-needs adults, children and families. In fact, the nonprofit was originally called Nick's Picks, eventually changing its name after it caught on in other cities.
Owens was eating dinner with his dad one night when former Nuggets team chaplain Bo Mitchell came to their table and told Owens he deserved recognition for all his hard work with the team. Mitchell asked Owens if he thought children with similar challenges might benefit from going to games. When Owens responded positively, Mitchell suggested that Owens think of a name for an organization that donates tickets to every home game.
Ready for the 2023-2024 season?

The NBA on TNT American Express Road Show will be hosting an opening night event in Denver at 3 p.m. on Oct. 24 at the Tivoli Quad on the Auraria Campus.
And so the seed for Game Day Memories was planted. Today, the nonprofit provides Americans With Disabilities Act-accessible seats to individuals and families with special needs. The organization operates nationwide.
"Many times, families can't afford to attend a professional-sports event," Owens said. "We just open a door to an experience they might not otherwise have, and it brings me great joy to help others. I've been blessed with others helping me, and I just want to do my part to pay it forward."