Social Justice
Nonprofit fights for victory over violence in Latino communities
A son of Colorado's Chicano movement, Rudy Gonzales carries on his father's legacy of championing underserved populations.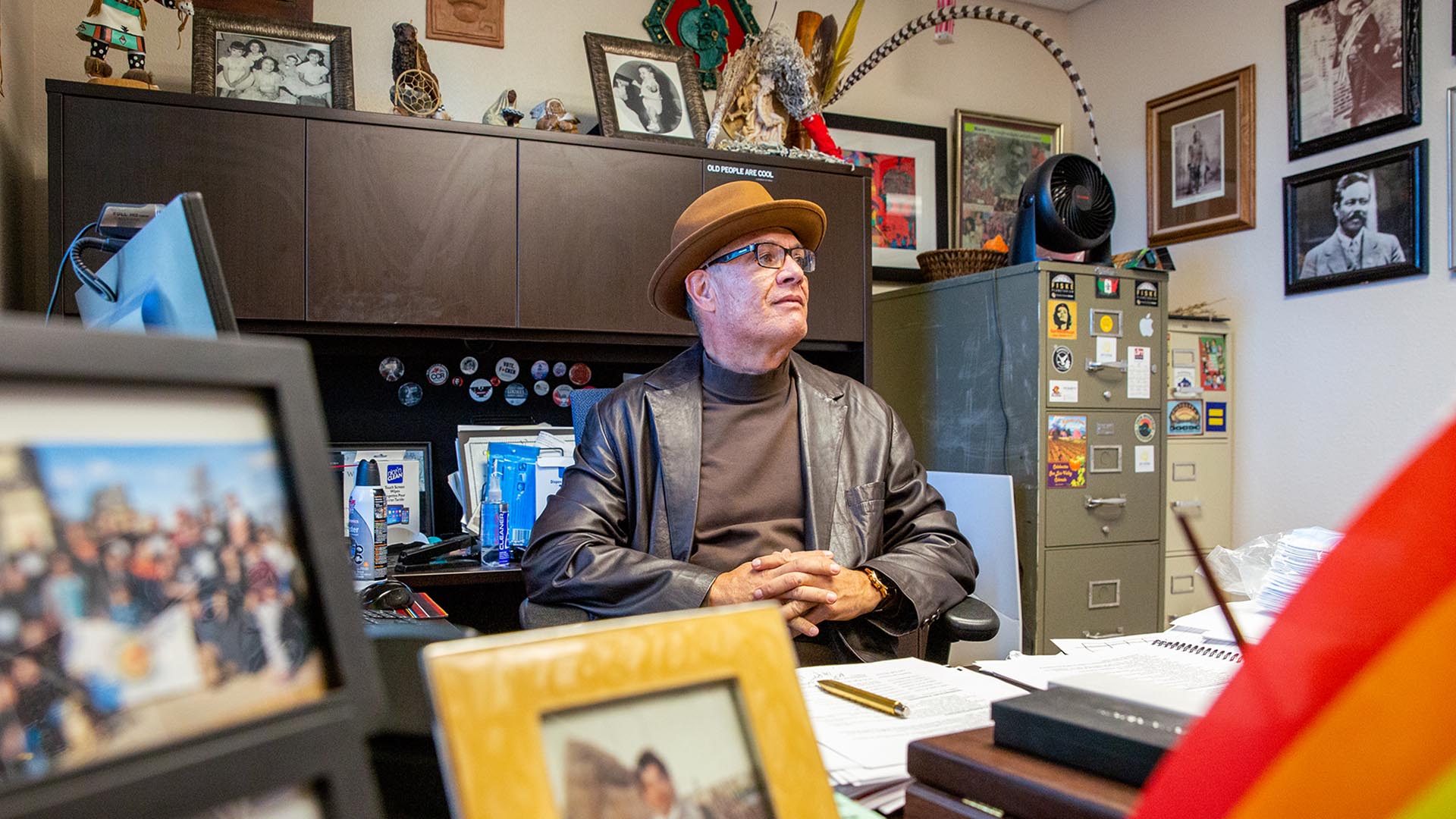 When asked how he got to where he is today, Rudy Gonzales is quick to credit his late father, Rodolfo "Corky" Gonzales. Born in 1928, Corky was a champion boxer, poet, political activist and, to many, the father of the Chicano movement. Although he died in 2005, his revolutionary spirit still echoes as a resounding voice for Latinos.
Today, Rudy Gonzales, CEO of Servicios de la Raza, upholds his father's unwavering dedication to serving his community, making him a hometown champion in his own right.
According to the National Coalition Against Domestic Violence, an average of 20 people per minute are physically abused by an intimate partner in the United States. That's over 10 million women and men per year.
In Colorado, 36.8% of women and 30.5% of men experience intimate-partner physical violence or stalking at some point in their lives. Through his work with Servicios, an organization that serves victims of domestic violence throughout Colorado, Gonzales is helping to put a stop to violence in marginalized communities.
Gonzales, who graduated from Metropolitan State University (then Metropolitan State College) of Denver with an English degree in 1984, has guided Servicios as CEO for 14 years. The bilingual human-services organization has served Denver's low-income Spanish-speaking populations and other marginalized, bilingual and native English-speaking Chicano communities across the city and state since 1972.
Its myriad services include programs for victims of domestic violence, sexual assault, general crime and human trafficking; ex-offender reintegration; workforce development and financial empowerment; and basic emergency services for behavioral health, health access, literacy and education, and people experiencing crisis situations.
---
RELATED: STAR program inspires federal legislation
---
Last year alone, Servicios served 62,000 people across the state, and the organization's reach may expand, as Denver's Support Team Assisted Response (STAR) program is considering a partnership with Servicios.
The STAR program, founded by two MSU Denver alumni, diverts some nonviolent emergency calls away from police and toward mental health and medical professionals. Under the new partnership, Servicios would support the program by providing behavioral health, housing, financial and other services to STAR patients.
"For me, (Servicios) isn't so much as an organization as it is a movement, serving people and also addressing inequities and injustices and violence in our communities," Gonzales said.
Caring through crisis
For many communities, the Covid-19 pandemic exacerbated already-overwhelming violence and inequities. But from Gonzales' perspective, it was nothing Servicios couldn't handle. "My whole life has been one of resilience, of discipline, of learning how to work through crisis and how to thrive in crisis," he said.
When the pandemic hit, Servicios was ready. "We jumped on every funding opportunity, and we actually raised $5 million from March of 2020 to December of 2020," he said. Servicios was designated an essential organization and held 15 Covid-19 testing events throughout 2020, testing an average of 200 people each time.
"We knew that this pandemic devastated our community," he said, adding that only 11% of the Latino population — most of whom work in agriculture or service industries — were privileged enough to work from home. "It really just shone a bright light on the stark inequities that we live with and have lived with."
To date, Servicios has vaccinated over 12,000 Latinos across the state and continues to do so. "It's about saving lives. It's about keeping our community safe," Gonzales said.
Carrying the legacy
Corky Gonzales made a name for himself as a boxer, becoming the first national amateur boxing champion in Denver history in 1947 and going on to become a top, world-ranked professional boxer. Yet his legacy also encompasses his identity as a poet, businessman, political activist and civil-rights leader. He marched alongside the Reverend Martin Luther King Jr. and César Chávez, founder of the United Farm Workers.
Today, Rudy Gonzales champions the same mission his father fought so hard for. When Gonzales took the job at Servicios in 2008, people told him he was crazy and to let the dying organization go. "I was stubborn and hardheaded and went to work," he said, "and just hard, constant, consistent labor has brought this organization now to a pinnacle of what nonprofit-based organizations of color should be in our society, and we're providing services in our own way."
He's proud that Servicios hires people from the community and notes that many of its employees are fellow graduates of MSU Denver.
"It's about growing with that intention of keeping community first," he said, "and also in service to others."