Food and Hospitality
Made in Denver: Next Level Burger
The city's new plant-based burger sensation has its roots on the MSU Denver campus.
Editor's note: Throughout fall, RED's Made in Denver series will highlight Mile High business owners who graduated from MSU Denver programs.
Denver foodies this month started heading to a new kind of gastronomic mecca.
Next Level Burger, a young company that bills itself as "America's first 100 percent plant-based burger chain," just opened its ninth restaurant nationwide and first in the Mile High City, marking something of a homecoming.
Although the business is based in Oregon, co-founders Matt and Cierra de Gruyter met while they were students at Metropolitan State University of Denver. And Matt de Gruyter it turns out, is a bona fide Denverite.
"It feels awesome to open our latest location here," he said. "My wife and I started out in Denver; our first son was born here. I'm actually from here. So it feels very circular and rewarding to plant these new roots in my hometown."
Against the odds
The idea for Next Level Burger originally grew from the de Gruyters' concern about what they saw as the negative health impacts of a red-meat diet, plus the environmental costs of its production.
With a young family to consider, the couple decided in 2014 to put their idealized vision of a burger joint — plant-based, organic, sustainable, kind — to the test. Not that it wasn't a little daunting.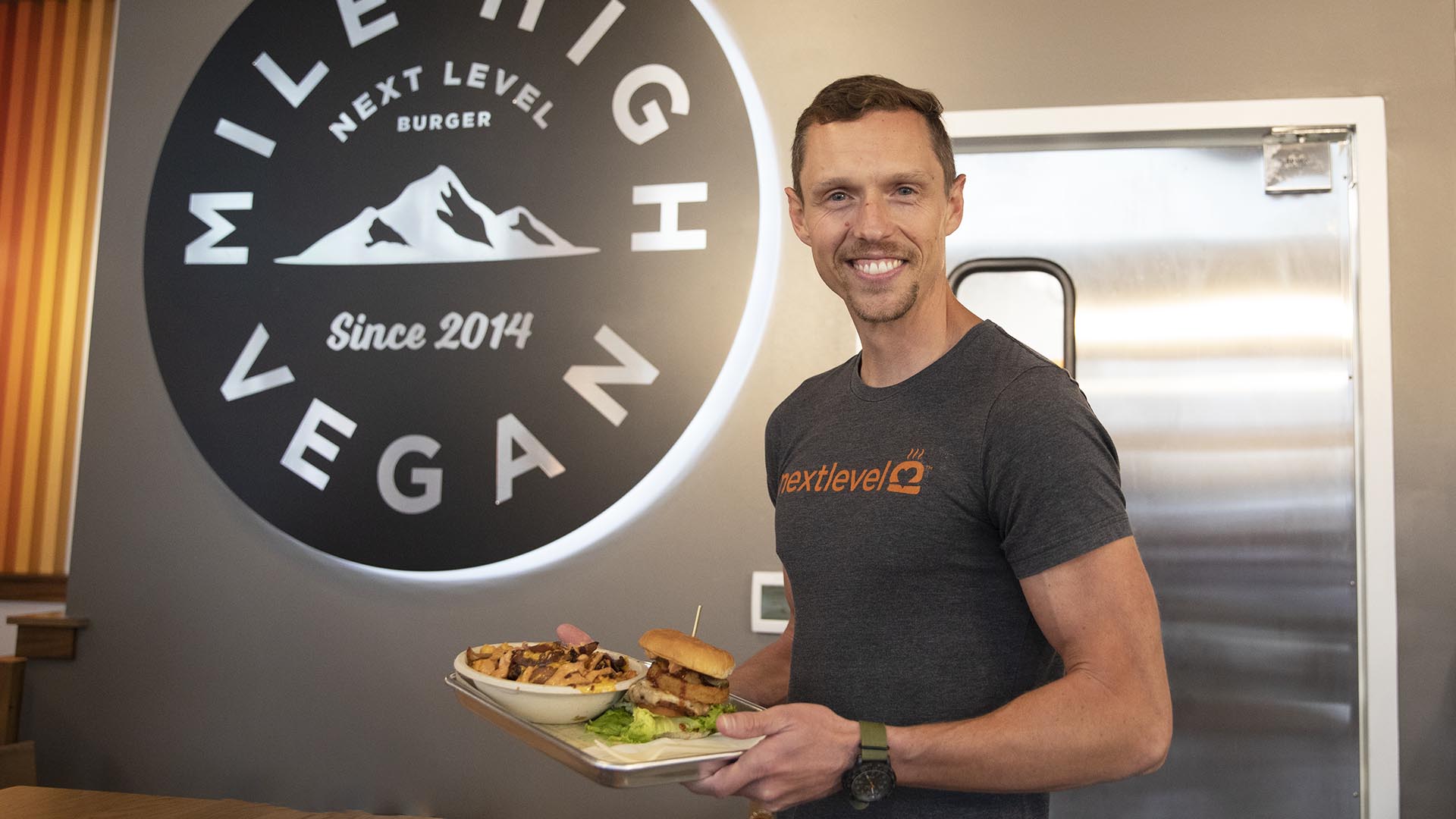 "The pressure of taking such a step, when vegan food was still on the margins and with two kids under age 5, was nearly overwhelming," Matt de Gruyter recalled. "It felt like getting in a boat to cross an ocean when you had no idea what was on the other side."
Stacking the odds even further, the couple decided at the outset that there would be zero compromise on their values.
From Day One, they paid employees a living wage and used all organic produce. ("With menu items, we'd ask ourselves, 'Would we put this on a plate in front of our kids and feel good about it?'" de Gruyter said.) They also used compostable packaging and stuck strictly to a non-GMO policy — and all this in a notoriously difficult business sector.
The reason why is simple: "If greed was good last century, then this century should be about building sustainable businesses for everyone's future,"  de Gruyter said. "I genuinely believe it's our generation's turn to fight for what's right."
Fantastic flavors
Still, all the values in the world count for little if the food is inedible. In its early days, vegan cuisine had a deserved reputation for being pretty bland and flavorless. Can de Gruyter vouch that his current products are genuinely lip-smacking and super-tasty?
"Oh, boy, vegan food has gotten so much better," he said. "These days, we use top-shelf ingredients to create classic burgers that still give you a satisfying fast-food kick, only without the subsequent heaviness."
Eating plant-based food, he explained, means pulling off a rare triple victory: "It's a win for you, your waistline and the planet."
---
RELATED: Meet the new meat
---
The de Gruyters' big goal has always been to broaden the appeal of vegan food to new audiences that might not have tried it before. Early on, they figured they could probably attract 95% of the country's vegan "virgins," provided that they offered a broad spectrum of choices that had something for everyone.
Well, it worked. And they began to draw quite the varied footfall at Next Level Burger venues.
"Seriously, we see people from all walks of life come in every day," de Gruyter said. "Sure, we attract the fitness guys and the yoga moms. But we also get to serve the paint-covered contractors, the teenagers and the dads taking their kids to the game. Even my father-in-law, a cross between John Wayne and Yosemite Sam, is a huge fan."
College lessons
Eight years in, the de Gruyters have come a long way. So it's fitting that their latest venture brings them within a few blocks of where their journey started, as Communication Studies (Matt) and Psychology (Cierra) students at MSU Denver.
"When I think of everything I learned during my time at MSU Denver, from my first professor's guidance right through to those classes focusing on public communication, I can't tell you how helpful it has been to my career," Matt de Gruyter recalled.
"I have reached back so many times to those lessons because they still serve me to this day," he said. Just recently, in fact, de Gruyter taught his 15-year-old son a mantra he had taken from his college days: It's important to learn how to learn.
Matt's Favorite Menu Selections

Signature Burger

A house classic made with an organic-mushroom-and-quinoa patty and roasted-garlic thyme mayonnaise: "I could eat two or three, easily."

The Maverick Burger

Beyond Burger patty, crispy onion rings, organic tempeh bacon, pickles and hickory barbecue sauce: "All the right crunch and sweetness on a pretzel bun."

Fries

Beerchz Style Fries or Special Style Fries? "I can never decide, because both are crazy tasty."

Shakes

Complement your meal with a Cookies 'n' Cream or Peanut Butter Cup shake. "Both are glorious and smooth."
Speaking of the next generation: De Gruyter has some advice for current students who might want to follow his entrepreneurial path.
"Spend a few years working for other people," he said. "That will help you figure out exactly how you'd like to work for yourself and, just as (important), what you don't want to do."
Few people follow college with immediate success, de Gruyter pointed out. Most of us have to slog away for a few years first. But he thinks that could actually be a blessing in disguise.
"You learn how to do things well by experiencing them and, crucially, paying attention," de Gruyter said. "During my early years working for others, I took mental notes constantly, carefully noting what did and didn't work."
That meant that by the time he launched Next Level Burger, he had already accumulated information and experiences that he could count on for guidance.
"And looking back," he said, "I think it worked out pretty well."