Cybersecurity
Program guides students with autism to cybersecurity careers
As demand for skilled tech workers grows, MSU Denver class taps into potential of the neurodiverse.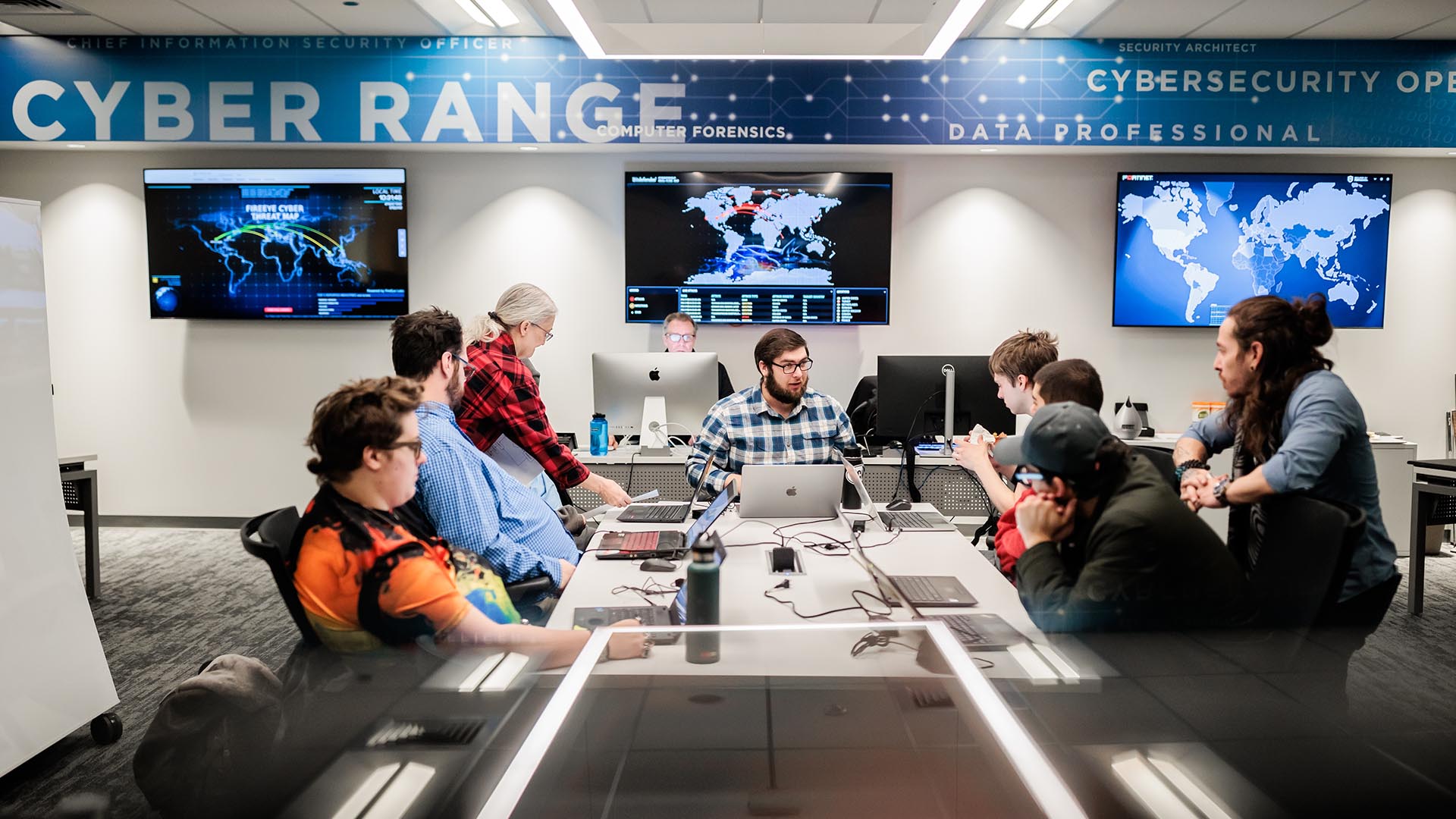 Most people know that Albert Einstein and Isaac Newton made incredible scientific and technological contributions to the world. Far fewer people, however, know they were both likely autistic.
Throughout history, there has often been a connection between scientific achievement and neurodiversity.
Experts believe many key historical figures, including computing legend Alan Turing and electricity innovator Nikola Tesla, probably had an autism-spectrum disorder.
And now that the U.S. is facing a growing threat from online attacks, cybersecurity educators are considering afresh the contribution that the neurodiverse community could bring to this new technological frontier.
Enter Metropolitan State University of Denver, which is working in partnership with Teaching the Autism Community Trades (TACT) to prepare neurodiverse students for careers in tackling hackers.
Extreme focus
In the University's Cybersecurity Center, students with autism have been learning this complex field through a combination of customized training and hands-on experience.
---
RELATED: Cybersecurity student aims to diversify the workforce
---
"Cyber analysis focuses exclusively on gray areas," said Richard Mac Namee, director of the Cyber Range at MSU Denver. "Nothing is black or white, and there's no manual to work from."
Information-security analysts, he explained, need an inquisitive nature, keen attention to detail and, above all, an ability to follow leads to the very end.
"People in the neurodiverse community can remain extremely focused where others would get distracted or their attention would fail," Mac Namee said. "They are exhaustively methodical and will work relentlessly until they find the problem — or conclude that there isn't one."
This isn't an entirely new idea. In the United Kingdom, the British spy agency Government Communications Headquarters has for years embraced the concept of successfully hiring neurodiverse employees. "I'm trying to replicate that model here," said Mac Namee, a former British Army officer. "Because we know it works."
Growing cost of cybercrime
One thing is for sure: There's more than enough cybersecurity work to go around. According to the U.S. Bureau of Labor Statistics, demand for information-security analysts is set to grow by 33% from 2020 to 2030 — four times faster than the average growth rate for all other occupations.
Why the big recruitment rush? Cyberattacks and data breaches cost a jaw-dropping amount of money: The global cost of cybercrime is predicted to reach $8 trillion this year.
And Steve Beaty, Ph.D., professor of Computer Sciences at MSU Denver, says even this astronomical figure probably lowballs the real total.
"It's difficult to estimate a true cost of cyberattacks because, besides the direct financial hit, they bring so many other deficits, such as the loss of reputation, lawsuits and employee productivity," he explained.
Meanwhile, the U.S. government and businesses have been struggling to defend against increasingly sophisticated hackers and data miners.
Small and medium-size businesses, which are victims of almost half of all cyberattacks, are particularly underprepared. Technology firm Accenture says only 14% of them have any defensive measures at all.
---
RELATED: Cyber heroes prepare for battle
---
"The first challenge is to even detect a cyberattack, which is often difficult because advanced persistent threats can literally lay in wait for years," Beaty said.
Advocates of the TACT cybersecurity course say it addresses two problems at once: finding talented employees to help bolster cyber defenses while addressing the chronic underemployment of neurodiverse people.
Cybersecurity students such as Matt G. Barr are eager to join that job market.
"I was interested in this opportunity because I wanted to learn new skills that could help me with a potential future career path in cybersecurity," he said. "It gave me something new to try out, as well as valuable experience."
Fighting prejudice
While the program is a boost to MSU Denver's mission to empower and uplift underrepresented groups, it also upends embedded prejudices about the value and reliability of people on the autism spectrum, Mac Namee said.
"This project is personal for me because I've seen the value of neurodiversity in analysis during my own military career," he said. "So when I saw this constituency of talented people not being given employment because they are — incorrectly — seen as problematic, I thought: We can change that."
Across the U.S., neurodiversity rates continue to surge. One in every 36 children in the country has been diagnosed with an autism-spectrum disorder, which makes MSU Denver's partnership with TACT feel particularly important.
Before teaching the course, faculty members had to undergo extensive training in how to instruct a neurodiverse class. MSU Denver also got invaluable help with the course from another partner organization, the Public Infrastructure Security Cyber Education System, known as PISCES.
This innovative nonprofit prepares students for cyber-analyst careers by immersing them in real-world experiences, working with reams of live data and malicious threats, because nothing teaches a student faster than getting thrown into the metaphorical deep end, cyber educators say.
Integration and collaboration
Another key priority for the course was to make sure these future cyber warriors, who often struggle with social settings, would successfully integrate into a busy working environment filled with other people.
The first step was to make sure the students always worked together in a collective environment. "We deliberately bunched up around a table and studied together," Mac Namee said, "rather than sitting at separate desks, just to get everyone used to the idea of collaborating closely with others."
Gradually, the group grew accustomed to this new, collegiate way of working. "Ultimately, everything kind of met in the middle," Mac Namee added. "We had to accommodate the students' particular needs to some degree, but they in turn also needed to learn new social skills."
And that social aspect will be particularly important once they're out in the field, where in a real-life cyberattack, "good teamwork is critical," Mac Namee said.
"Four brains working together to solve a problem will always be better than one," he said.
Mac Namee is confident that a bright future is ahead for most of the students who participated in the first TACT course. "Smart companies are going to recognize that these gifted people really are an invaluable asset," he said.
But the course isn't just about gaining technical and academic accomplishments. For these students, a career in cybersecurity could also make a transformative personal difference, bringing them confidence, financial independence and a true sense of place in the world.
"Knowing how important cybersecurity is to the world, this project makes me excited for the future," said Gavin West, a student in the course. "It makes me feel like I'll be able to make a difference with my career."